The Whitetop Mountain Band is a family-based band from the highest mountains of Virginia. Originally founded by Albert Hash, the band is carried on today by brother-in-law, Thornton Spencer (fiddle) and his wife, Emily Spencer (banjo, vocals). Their daughter, Martha Spencer (guitar, vocals, dance, fiddle) joins them as well as Ersel Fletcher (guitar, vocals) and Debbie Bramer (bass, dance). WTMB is one of the most popular dance bands in the Blue Ridge and have played numerous festivals and venues across the USA such as the Smithsonian Folklife Festival, National Folk Festival, Merlefest, World's Fair, World Music Institute, and toured in the United Kingdom and Australia. The band has also won many competitions throughout the years, and been featured in countless books, news articles, and tv/radio documentaries on mountain music.
The Crooked Road Ramblers play traditional old-time dance music from Virginia and North Carolina. The members of the band are Kilby Spencer on fiddle, Kelley Breiding on banjo, John Perry on guitar, Donald Hill on guitar and vocals, Wayne Dye on mandolin and vocals, and Karen Carr on bass and vocals. Kilby grew up in a musical family. His parents are Thornton and Emily Spencer of the Whitetop Mountain Band. John Perry is well-known throughout our area for his guitar playing. With his incredibly individualistic slides and runs, he could even make a person with two left feet hit the dance floor. Lots of people remember John for playing in the awarding winning band, The New River Ramblers. Donald Hill has been playing music his entire life. His father, Leon Hill, was a musician and singer as well. Don has two sons who are also great pickers. Karen Carr is a dream come true for any old-time or bluegrass band. She loves to play music and sing, occasionally she and Don will also provide some comic relief for the group. Karen is deeply rooted in the musical heritage of the region with relatives who played including Fred Cockerham and Wilson Ramey.
Unique Sound of Mtns: Larry Sigmon & Martha Spencer
Old time banjo player and singer, Larry Sigmon of Callaway, VA, was half of the duo- Unique Sound of the Mountains with Barbara Poole for close to 20 years. They were one of the most popular groups in the Blue Ridge, touring all across the South with appearances at festivals and venues like the Carter Family Fold and Grand Ole Opry. After Barbara's passing in 2008, Larry had stopped performing. Albert Hash Festival will be his first official performance along with Martha Spencer accompanying him on bass and vocals.
Jesse Lege, Joel Savoy and Joseph Vidrine Cajun Group
Jesse Lége is the real deal. Growing up in a rural, pre-electricity home in Gueydan, Louisiana, Jesse spoke Cajun French and learned music from relatives, neighbors, and the family's much-loved battery-powered radio. Today he is one of the most admired Cajun accordionists and vocalists in the world. He has won numerous CFMA (Cajun French Music Association) awards: Traditional Band of the Year, Accordion Player of the Year, Male Vocalist of the Year, Band of the Year, and Song of the Year, and in 1998 he was inducted into the Cajun Music Hall of Fame. Sharing the stage with Jesse for the last 15 years is two-time CFMA "Fiddler of the Year" Joel Savoy. Since his early teens Joel has been a leader of a group of folks in southwest Louisiana dedicated to honoring, preserving and living the legacy that is Cajun culture by instigating and supporting traditional music and events such as the Courir de Mardi Gras and boucheries. He's worked or played with just about every musician out of Southwest Louisiana and a few other folks too, like John Fogerty, Linda Ronstadt, T-Bone Burnett, and Steve Earle. From his home studio in Eunice, Louisiana, home of Valcour Records, he's received nine GRAMMY nominations to date and in 2012 he won a GRAMMY for his work as a producer and engineer with The Band Courtbouillon.
Luke Bell and Matt Kinman
Luke Bell is a traveling songwriter native to Wyoming. A 5th generation rancher he decided college wasn't his calling and left home to travel the country; working odd jobs, writing, and learning music along the way. During a stint in New Orleans, Luke got to know Matt Kinman, and later on they began performing shows together. Luke's latest album featuring his original compositions in a classic country setting on Thirty Tigers has received much acclaim with features in Rolling Stone, Daytrotter and Paste Magazine and leading to opening for Dwight Yoakam, Hank Jr and Willie Nelson.
Born in the Southwest into a family of ranch hands and musicians, Matt Kinman left home at an early age and hit the road with his guitar and mandolin. Settling in the Appalachian mountains, he spent years playing with and learning from the old time musicians and crafts people. Also known as the little hobo, he has traveled by planes, trains and automobiles, or just by his boots and thumb all across the USA. There's not many towns he hasn't been in or place where he doesn't know someone. He lived in Nashville for a long period as well (playing with Leroy Troy, Marty Stuart, and being a founding member of Old Crow medicine show). Matt has performed across the USA from anywhere as the Grand Ole Opry to Hardly Strictly in CA. He is currently working on a tv show The Patchwork of America.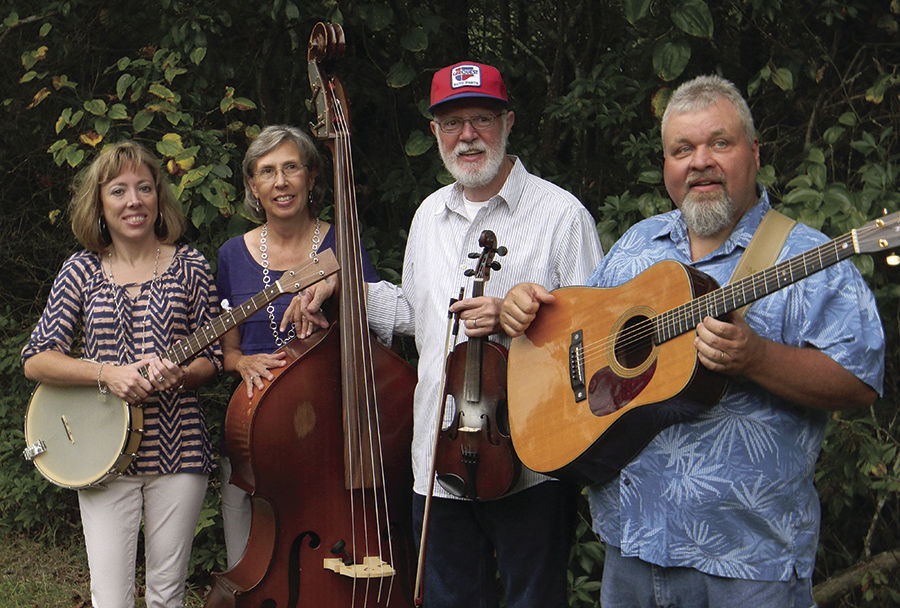 Slate Mountain Ramblers
The Slate Mountain Ramblers is a family old-time band from Mt. Airy, NC. They formerly lived in Ararat, VA, a small community at the foot of the Blue Ridge Mountains. For many years, Richard Bowman, his wife, Barbara, and their daughter Marsha, have spent weekends playing music. Richard plays fiddle, Barbara the bass and Marsha plays claw-hammer banjo. The band has a winning tradition by winning and placing at fiddler's conventions they have attended throughout the years. Richard, on fiddle, and Marsha, on claw-hammer banjo, have received many individual awards. The Slate Mountain Ramblers play for shows, dances, family and community gatherings, benefits and compete at fiddler's conventions throughout the year. They have played internationally at the Austrian Alps Performing Arts Festival and in Gainsborough, England for the Friends of American Old Time Music and Dance Festival. They also lead fiddle, banjo, bass and dance workshops.